Sustainability
Durable Footwear. Fewer Landfills.
Thoughtfully engineered for durability and longevity, Cat shoes are built to last. Because durable shoes mean less waste. Which is better for you, and better for the planet.
Our Materials
Why We Love Leather
It's Responsible

Leather, nubuck and suede give footwear durability with comfort, breathability, and longevity. It's a timeless aesthetic that ages well with use. With proper care, leather footwear can stay in your closet season after season.

It's 100% Traceable

The leathers we use are a byproduct of the food system, and otherwise would have been waste. By ensuring our hides are 100% traceable, we can guarantee that the animals are raised responsibly and the suppliers are held to a high ethical standard.

It's Leather Working Group™ Certified

We only work with leather suppliers that are certified by the Leather Working Group™, an organization aimed at improving the impact of the leather supply chain and bringing visibility to industry best practices.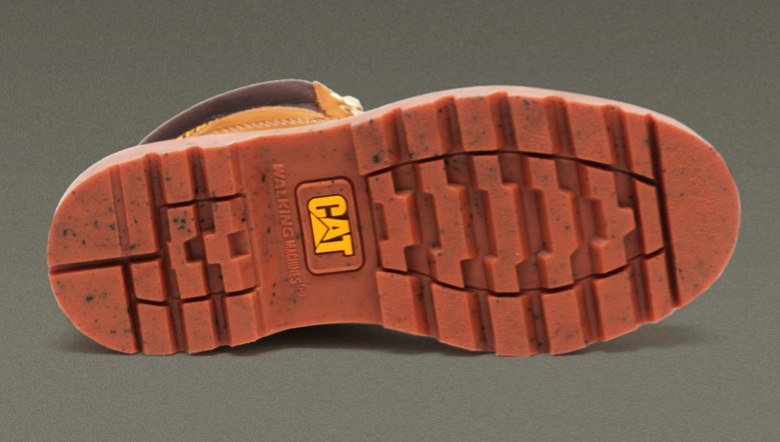 Our Recycled Material
We use as much recycled content as possible without sacrificing durability or performance. Beginning in fall 2022, our goal is that all new industrial products will be designed with 100% post-industrial recycled linings.
Our Process
Ethical Labor

We care deeply about the people that make our products possible. By banning hazardous materials, providing personal protective equipment, and paying fair wages, we're actively improving the quality of life for our tannery workers.

Recycled Packaging

Our cardboard shoe boxes are made with a minimum of 80% post-consumer recycled paper and are 100% recyclable. We never use solvent-based adhesives or petroleum-based inks in our packaging. Instead, we use water-based solvents and inks, which use fewer chemicals and create fewer emissions.

Sustainable Partnerships

We actively seek out partnerships with innovative companies like APX® Devulcanized Rubber, an "upcycled" rubber compound manufacturer that uses an environmentally friendly, patented process.
Our Planet
More wear. Less waste.
Building longevity into our products is central to our sustainability philosophy. Every season we look for opportunities to incorporate more durable materials and sustainable practices into our line.

At Cat Footwear, we're committed to enhancing the sustainability of our materials, products, and processes. We know we aren't perfect, but we're working hard and making strides — and we hope you'll help keep us accountable along the way.

— Cat Footwear Team
Caterpillar Inc. is building a better world through sustainability.
Learn More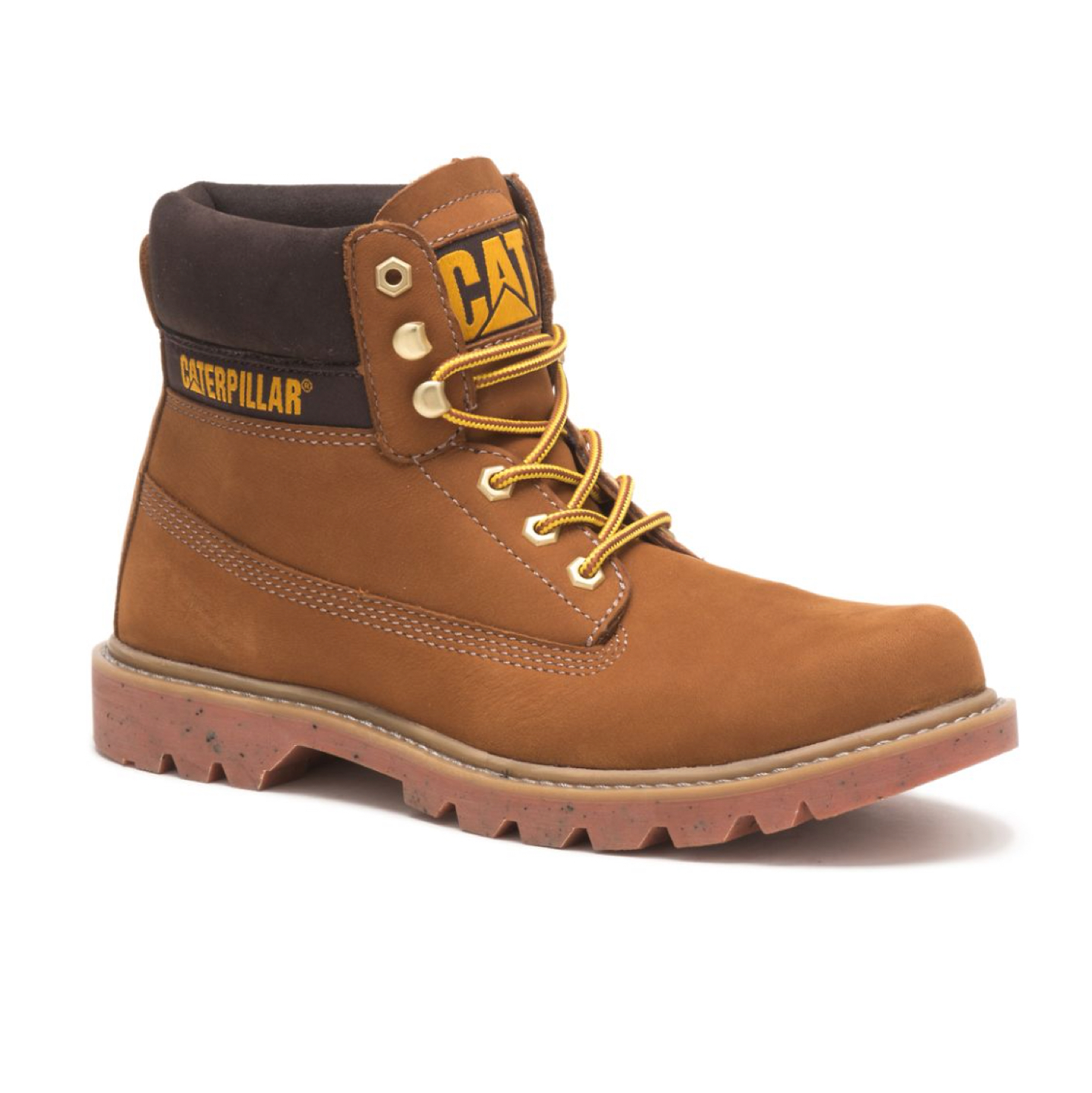 eCOLORADO
Same Icon. Less Footprint.
An instantly recognizable style from Cat Footwear, the iconic Colorado represents a real piece of our heritage and a craftmanship honed over 150 years for superior durability. The eColorado has been developed and created with a focus on eco-friendliness, through construction and materials, all without changing the outward appearance of the iconic classic.
Recycled Materials

Outsole contains partially recycled rubber.

Responsible Leather

Our leather products support responsible manufacturing via our partnership with the Leather Working Group.

Efficient Manufacturing

Reduced water and energy usage during production of the leather.
Shop Now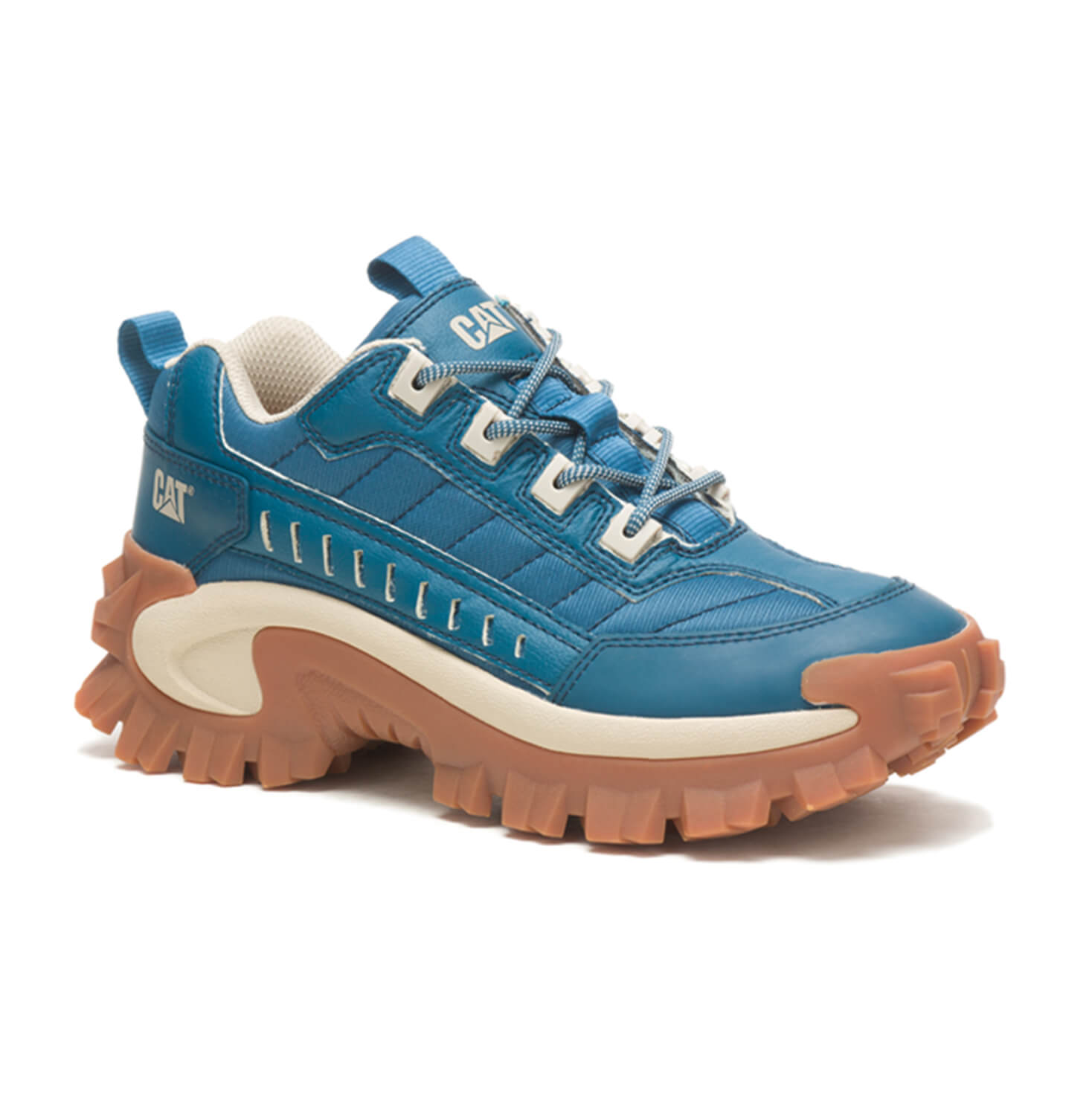 ECO INTRUDER
Built From Less.
Vegan. Made with Piñatex®.
The iconic Intruder but vegan. Created using Piñatex®, a plant based and natural leather alternative. The animal free, pineapple based material is a byproduct of existing agriculture. No extra land, water or pesticides are required to make the raw material and as an added benefit, the use creates an additional income stream for farming communities.
Vegan Plant Based Leather

Piñatex is a natural, innovative and patented new material, made from pineapple leaf fibers gathered by partner farming cooperatives in the Philippines.

Ethically Sourced

Piñatex is more sustainable than conventional materials or other traditional vegan leather alternatives derived from plastic.

Efficient Manufacturing

No extra land, water, fertilizer or pesticides are required to produce Piñatex® as it is a by-product of agriculture.
Shop Now